Awareness
Both patient and research advocacy and awareness have been critical support functions of the charity since its inception and have been key to many successes. Alongside our direct work with beneficiaries, our impact across the clinical research community both nationally and internationally is far reaching.
In research, this has led to many achievements, including the notable National Institute for Health and Care Excellence appeal that helped lead to direct changes to standard therapy and growth of a research portfolio that focuses on the unmet needs of children. In addition to mobilising new clinical research projects across the UK, Europe and North America, we have further embedded parent and research advocacy within our organisation, with team members positioned in key UK and International forums.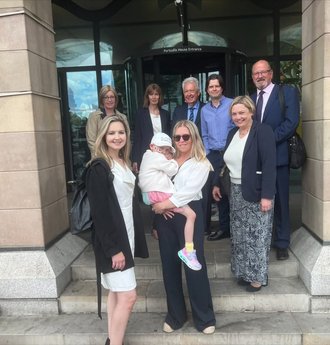 Odile
Odile was diagnosed with low-risk neuroblastoma soon after she was born in 2019. Now three years old, Odile is a healthy, cheeky and loving toddler. Odile's parents, Iulia and Padmesh, felt helpless in those early weeks and months after Odile was born. After spending hours searching for advice and information about low-risk neuroblastoma and being unable to find any, they both felt isolated and scared about Odile's future and totally unprepared to make potentially life-or-death decisions around their daughter's health.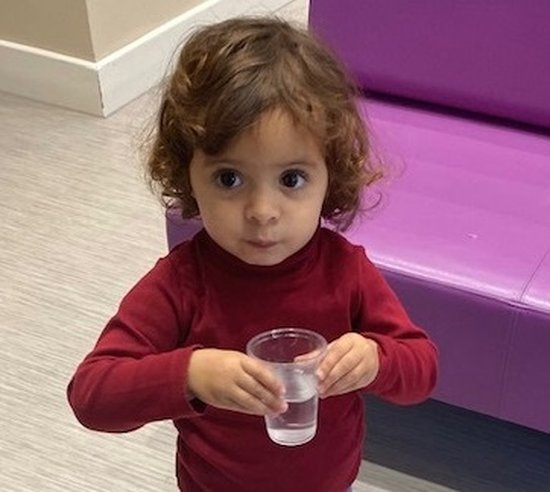 They finally came across information about our charity and were in regular contact with our dedicated Family Support team, and through doing so were able to seek a second opinion, which helped inform their decision making. In the summer of 2020, with Odile doing really well, Iulia signed up to be a Solving Kids' Cancer UK Ambassador.
Iulia is dedicated to enabling the charity to reach more families from the point of diagnosis, including those families of children who are diagnosed with low and intermediate-risk neuroblastoma. This is largely shaped from experiencing the lack of information available about low-risk neuroblastoma and the conflicting opinions around treatment for children with this type of disease.
Google and Solving Kids' Cancer UK
As part of her ambassador role, Iulia, who works for Google, introduced us to their incredible EMEA Business Strategy & Operations team, who gifted us a day of their time and expertise by hosting a focused strategy day.
Over 14 amazing Googlers signed up to participate alongside members of our team and Board of Trustees. The Googlers reflected with us, informed and challenged us.
Despite our small size, we have huge ambitions on behalf of children with neuroblastoma and their families. Our day with Google helped us realise that our ambition and determination is far more important than our size and that we need to think beyond any limitations and be bold and unapologetic for children and families who deserve nothing less.