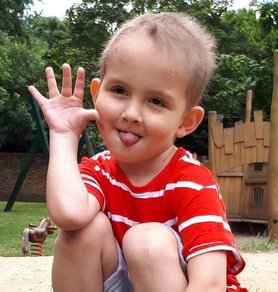 Always remembering
Jacob
Football-loving Jacob was known for his lovely smile. He passed away when he was five years old.
Jacob's story 
Jacob was diagnosed with high-risk neuroblastoma when he was two years old. Despite an aggressive regime of treatment, he relapsed in April 2016. Following this, he received additional chemotherapy with radiotherapy and immunotherapy. Jacob's family started fundraising with Solving Kids' Cancer UK to raise funds for Jacob to potentially access a clinical trial not available through the NHS to help him continue to fight neuroblastoma.
After immunotherapy, his family had hoped that he would be able to access the bivalent vaccine clinical trial in New York but owing to a second relapse in July 2017, Jacob was no longer eligible for the trial. To try to get Jacob back into remission, he continued to have immunotherapy in combination with chemotherapy, but sadly his disease didn't show a positive response to the treatment.
Next steps for Jacob involved participating in a phase 1 clinical trial at Great Ormond Street Hospital, which it was hoped would reduce or, at least, stabilise his disease. This meant lots of further hospital visits, and overnight stays for Jacob and his family.
But on 9 December 2017 Jacob's family shared the devastating news that Jacob had passed away.
As a way of continuing Jacob's legacy, his family planted a commemorative tree and arranged for a special bench at Marks Hall Arboretum & Gardens, Coggeshall, which Jacob loved to visit. Notley Youth Football Club award the Jacob Jones Trophy each year to the most deserving member of the organisation. In addition, Jacob's framed football shirt is on display in the Clubhouse at Braintree Town FC.


Donations made in loving memory of children
Funds raised in loving memory of Jacob will be used to support other children like Jacob and their families through Solving Kids' Cancer UK's activities. Any funds raised through a previous fundraising campaign for access to treatment which were not spent on the child's treatment and pastoral needs are used to support other children and families through Solving Kids' Cancer UK's activities.