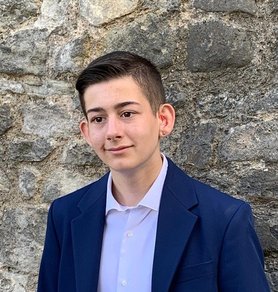 Oliver
Oliver is now 14 years old. He likes gaming and hanging out with his friends.
Fundraising total
£4,364.00
Oliver's story
Oliver was a very happy baby and as he approached his first birthday in 2009, Natalie noticed he was holding objects very close to his face. She decided to take him to the doctors to have him checked over. She was told three times there was nothing wrong with him and certainly nothing to be concerned about with his eyesight.
Natalie was not convinced by the medical opinion and changed her doctor. With a new doctor came a new opinion - there was something wrong with Oliver and he was referred to an eye specialist.
Natalie says it was such a relief to know that someone was listening to her and sharing her belief that there was something wrong but at the same time, taking Oliver to the appointment was very emotional.
Treatment
That following day, Oliver and Natalie were called to King's College Hospital in London for more tests. Months went by until finally the family were referred to the Royal Marsden where tests revealed, devastatingly, that Oliver not only had a tumour in his head but four other tumours in his spine, pelvis, leg and stomach. The medical team explained to Natalie that her little boy had neuroblastoma. Oliver had shown no signs or symptoms of any kind.
Oliver's harsh treatment regime began immediately with chemotherapy but he has also endured stem cell harvest, high-dose chemotherapy, radiotherapy and surgery. Oliver then went on to receive immunotherapy and he was the first-ever child to receive it at the Royal Marsden.
Although he spent lots of time in hospital, Oliver remained a happy, independent little boy.

Even after treatment, Oliver still has a tumour in his head but the disease is deemed inactive. Whilst he hasn't achieved remission, the tumour remains stable. He has regular check-ups to monitor for any changes.

Oliver has been left with side effects from the cancer and the treatment. He is now registered blind and walks with a white cane and wears hearing aids due to the damage caused by chemotherapy.

Solving Kids' Cancer UK's children's fundraising campaigns

Funds raised will go towards helping Oliver should he need further treatment not available through the NHS. Oliver's cancer, high-risk neuroblastoma is aggressive with high rates of relapse. At relapse, the chance of survival is extremely low. If Oliver no longer needs the funds or is in remission five years post the end of treatment, the funds will be used to support other children and families affected by neuroblastoma through our activities.

Donations and comments
Anonymous
£2,861.00
Donated on: 11th May 2023
Manual adjustment by Solving Kids' Cancer UK.
Anonymous
£1,503.00
Donated on: 12th August 2019
Previous donations to Solving Kids' Cancer