Research
We are dedicated to helping those facing a neuroblastoma diagnosis today, while also building a better future with better outcomes for children yet to be diagnosed.
We do this by driving and investing in pioneering clinical research, focused on finding treatments that are more effective and less toxic, focussing on specific sub-groups of patients and areas of unmet medical need.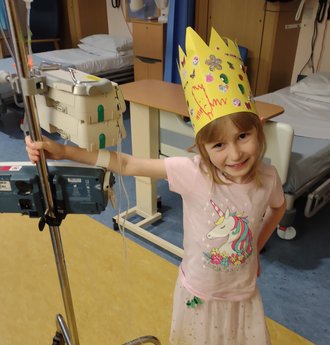 Poppy
Poppy was diagnosed with high-risk neuroblastoma at just four years old, in the middle of the COVID-19 pandemic and just weeks after the arrival of her baby brother.
Initially, mum, Claire, thought that Poppy's symptoms, including lack of appetite, complaints of leg pain and clinginess, were due to the huge changes brought on by the pandemic and having a new addition to the family. However, after Poppy became more unwell, a consultation with the GP and blood tests at Bedford Hospital hinted at something more sinister. A chest X-ray finally revealed a tumour in Poppy's chest cavity, wrapping around her heart and pushing against her lung. This was later confirmed to be neuroblastoma. After 13 rounds of chemotherapy in frontline treatment, Poppy enrolled onto the MiNivAn trial at the University of Southampton. The MiNivAn trial was co-funded by Solving Kids' Cancer UK in 2015. The study is testing a new combination of radiation therapy and two different immunotherapy drugs in the hope that it will help to reduce a child's cancer, particularly where their disease is not responding well to standard chemotherapies.
For Poppy, the treatment helped reduce her 33 spots of disease to three. Since completing the trial, Poppy has gone back into frontline treatment, which includes surgery, high-dose chemotherapy with stem-cell rescue and radiotherapy, and she has just completed her third round of immunotherapy.